Office Printers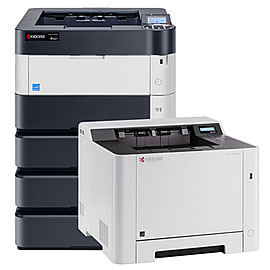 Office Printers
Quality machines from the worlds top manufacturers. We can help find the rite solution for your growing business.
A simple office printer may be adequate for your needs, without sacrificing quality and reliability. Laser printers are a cost-effective way to produce professional results, and come in a variety of formats and speeds. With many makes and models to choose from, selecting the right machine for your needs can sometimes be a complex decision, and we will be happy to discuss your options, your requirements, and recommend the best machine for your needs and budget.
Finding the Right Product for Your Business
• Huge Choice:
Quality machines from the worlds top manufacturers.
• Value:
Our privileged relationship with manufacturers ensures that we can offer you a competitive deal.
• Adaptability:
Many of the printers
can be upgraded and customised to meet your specific requirements.
RICOH - Print Solutions
KYOCERA - Print Solutions